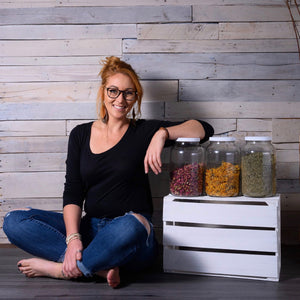 How Herbalism Chose Me...
 Paige's Journey
Owner and Creator of Sovereign Healing Co.
My clinical work began in 2013 with neurological Physical Therapy.  My experiences of working with patients who were tasked with relearning common routines helped shape me into the clinician I am today.  
Now, I work to support the chronically stressed and overworked by helping them develop a deeper awareness of their habits and lifestyle in order to create balance and better quality of life.  I am passionate about being an educator of holistic health, all while intimately walking the journey 1:1 together with my clients in achieving their goals. Clients receive personalized wellness plans, including a dynamic set of necessary resources to guide and support them in transforming their lives and achieving desired goals!​
The essence of my work is to identify specific needs whether they be; herbal, nutritional, mental, physical or social. Facilitating self-growth by helping you identify your core mind, body and soul patterns, so that you can overcome them with confidence and a sovereign mindset. 
​
Through my own health and lessons, Herbalism was something that was destined for me. In 2010, I graduated from University of North Florida with a degree in Health Sciences. Throughout my journey, I have received training in indigenous South American traditions, Ayurvedic medicine, yoga teacher training & philosophy, non-toxic health and beauty, and chiropractic care. Traditional Western Herbalism training was an easy decision for continuing education. I completed my Clinical training at Traditions School of Herbal Medicine and have never looked back!
My sovereignty journey has led me here- and I am so grateful to share my experience with each of you as you continue your journey with Sovereign Healing Co.  
We are building a healing community.
Together we are more resilient, adaptable and well nourished in mind, body and soul.
---